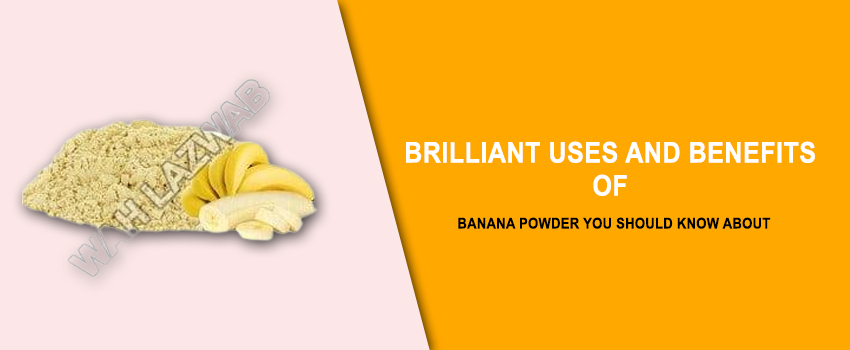 Bananas are considered to be a superfood and are one of the most popular fruits worldwide. As they contain essential nutrients, they can have a protective impact on our health. Today, we are going to draw your attention to natural banana powder which is the more concentrated source of nutrients found in fresh bananas. Banana powder is typically made by low-temperature drying banana slices or pulp and converting them into fine powder. Nowadays, banana powder is widely used as a vital component for the production of milkshakes and baby foods. It is also used in preparing various types of biscuits and cakes. If you do not know much about banana powder then stay with us, we are going to discuss some of the uses and benefits of banana powder.
Benefits Of Banana Powder:
•

Contains the Same Nutrients As Fresh Bananas
Banana powder has the same nutritional value as fresh bananas. It also smells and tastes like fresh fruit. As the drying process is carried out at a very low temperature, none of the essential & beneficial nutrients are destroyed. The banana powder is easy to mix with favorite pastries and desserts, or sprinkled on breakfast porridge. Thanks to its delicious, flavourful, sweet taste, banana powder is also an alternative option to reduce sugar intake. In addition, banana powder can also be ideal for those who are not fond of eating fresh bananas.
•

Helps Fight Various Health Problems
Bananas are a rich source of vitamins C and B6, as well as minerals such as copper, potassium, and manganese. They also contain powerful antibiotic and antifungal compounds that help to fight viruses and harmful fungi. Bananas and powder made from them are greatly beneficial for lowering blood sugar levels, improving digestive health, reducing weight, maintaining heart health, improving insulin sensitivity, maintaining kidney health, regulating blood pressure, asthma, shingles, Parkinson's disease, arthritis, chronic fatigue syndrome, and many other health conditions, helping people to heal.
•

100% Natural
Banana powder is 100% natural, pure, and vegan. Not a gram of sugar or additives has been added to this product. It is made only from natural bananas. Banana powder is also GMO and gluten-free.
Best Uses Of Banana Powder:
Here are some excellent ideas for you to try with Banana Powder-
•

Can Make Healthy Banana Pancakes With Banana Powder
We all love to enjoy pancakes for breakfast. But what if we use natural banana powder instead of wheat flour which makes pancakes more delicious, sweet, and soft? Banana powder is just perfect in pancake batter, either combined with fresh bananas or as a stand-alone ingredient.
•

Can Mix Banana Powder into Ice Cream
The banana powder can be used in classic ice cream as a delicious topping. Believe us; the result will be simply awesome! Thanks to its sweet flavor and taste, banana powder is an excellent alternative to sugar and other sweeteners, so you will not gain unnecessary calories.
•

Can Make Energy Bars From Banana Powder
If you love to eat energy bars, banana powder is definitely your new favorite. Banana-flavored energy bars are truly amazing. Use some dates, raisins, nuts, or any other dried fruit and a few spoons full of banana powder to make the perfect combination for lip-smacking energy bars!
•

Can Add It To Your Homemade Desserts and Smoothies
Are you a big sweet lover but looking for a healthy alternative? Banana powder is the best option for you. You can add banana powder to a variety of desserts, yogurts, porridge, and smoothies to enhance their taste and flavor.
Due to a lot of uses and benefits, the banana powder is a popular choice for every Indian who wants to lead a healthier life forever. To get premium quality banana powder, you need to look out for one of the trusted natural banana powder suppliers in your area. The product provided by natural banana powder suppliers is completely free from any adulterants retaining the nutritional value of the product.