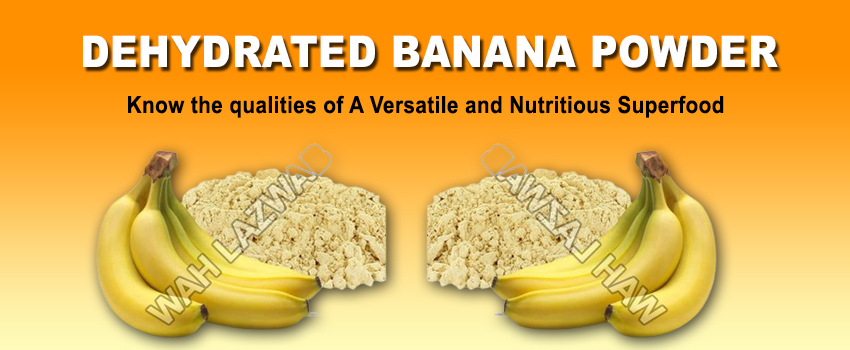 When you look into healthy and convenient food options, dehydrated powder stands out as a versatile and nutritious superfood. It is packed with essential vitamins and minerals. Also, the product offers a unique way to enjoy the natural goodness of bananas in a concentrated form. Are you a fitness enthusiast, a parent looking for wholesome snacks for your kids, or someone seeking a delicious addition to your culinary creations? All in one answer is a dehydrated banana powder which has got you covered.


What is Dehydrated Banana Powder?

This powder is the resultant of ripe bananas that undergo a dehydration process to remove the moisture content. Afterward, only a fine, nutrient-dense powder. The process involves

• carefully slicing bananas and
• placing them in a dehydrator at a low temperature,
• preserving valuable nutrients without using any additives or preservatives.
• The result is a shelf-stable powder containing 100% of the natural flavor and color of bananas.


Here are the salient qualities of this healthy dehydrated banana powder:

Nutritional Powerhouse

Bananas are good on their nutritional value, and banana dehydrated powder has that perfect goodness in a highly concentrated form. This powder is rich in all vital nutrients, vitamins, and minerals, including potassium, vitamin C, vitamin B6, and dietary fiber.
Potassium plays a significant role in maintaining heart health and maintaining blood pressure, while vitamin C is good to boost the immune system.

Vitamin B6 helps in metabolism and cognitive function, making this powder a fantastic addition to your daily diet.


Versatile Culinary Ingredient

One of the best advantages of dehydrated banana powder is its versatility in the kitchen. It can be seamlessly used in various recipes as it can easily enhance your dishes' flavor and nutrition. For instance, you can sprinkle it over your morning cereal or oatmeal for a burst of banana goodness. It also works wonders in smoothies, providing a natural sweetener and thickening agent. Furthermore, adding this powder to your baked goods, such as muffins, pancakes, and bread, infuses them with a delightful banana essence.


Healthy Snacking Made Easy

Banana Dehydrated powder is an ideal snack option too, especially for those who are constantly moving around. Instead of resorting to sugary and unhealthy snacks, you can opt for this wholesome alternative. Mix the powder with yogurt or blend it with nut butter for a delightful dip. Additionally, it serves as an excellent topping for popcorn, giving you a delicious and nutrient-rich snack during movie nights.


Infant and Toddler-Friendly

Parents often worry about providing their infants and toddlers with nutritious and appealing foods. This powder comes to the rescue as a baby-friendly option. You can mix it with water or breast milk to create a smooth and palatable puree for your little ones. As they grow older, you can incorporate it into their meals or use it to flavor homemade teething biscuits, ensuring they receive essential nutrients while enjoying their food.

How to get dehydrated banana powder?
It is very easy to buy it. Get it in your nearby store or for convenience, choose to a reliable online supplier. They can promise the best quality, affordable price, food-grade packaging, bulk order feasibility, and doorstep supply. Check for a user-friendly website first.