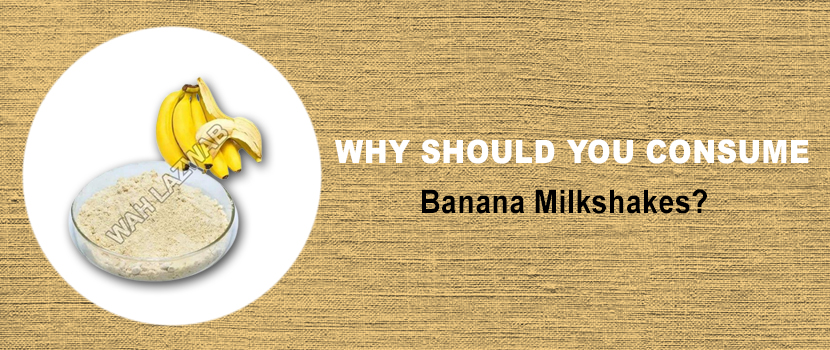 For both children and adults, a banana shake is a nutritious beverage. A banana milkshake not only tastes great, but it also has several beneficial properties. With a nutritious life and a drink of banana milkshake, you can add or shed fat.
Nowadays, you don't even have to make a banana milkshake yourself. There are many banana milkshake powder manufacturers available. This makes it even more convenient for you to make nutritional banana shakes. The ingredients in banana milkshakes, which are abundant in proteins, antioxidants, soluble fiber, and nutrients, are beneficial to your health.
Discover everything you need to know regarding banana milkshakes in the following paragraphs.
Benefits of Banana Milkshake for Skin
Banana milkshakes are a good source of vitamin C, an antioxidant that repairs skin damage. Additionally, vitamin C reduces signs of aging. Additionally, the potassium in banana milkshakes acts as an anti-aging supplement and wrinkle prevention.
Acne's look and redness are diminished by the anti-inflammatory qualities of banana smoothies. You might drink a banana milkshake and apply a fruit peels mask together to eliminate skin conditions.
Improves Energy Level
Complex carbohydrates found in bananas provide the body with a constant supply of glucose. As a result, many people choose to sip on a banana milkshake following demanding training sessions.
After working out, you can rapidly replenish your energy with a banana milkshake. This milkshake reduces the risk of muscle spasms by raising potassium and glycogen concentrations in the tissues.
Encourages weight gain
To develop lean muscle, protein is essential, and you need carbohydrates for energy. These key ingredients are present in the banana milkshake.
A medium-sized glass of banana milkshake contains 100 calories. Banana milkshakes can be made by combining almond butter with additional ingredients. One of the top milk banana milkshake advantages is this.
Aids in Weight Loss
Milkshakes with bananas are also helpful for losing weight. With about 3 grams of fiber per banana, bananas are high in fiber and help you feel fuller for longer. Bananas' high starch content reduces meal size, boosts glucose metabolism, and aids in weight loss.
You might eat less after consuming a banana milkshake to stave off hunger. If you want to reduce weight, attempt to make banana milkshakes using full-fat milk. Milk with more fat than milk with less fat will help you lose weight.
Cardiac-Friendly Banana milkshakes
Magnesium and potassium are abundant in banana smoothies. These two components keep an eye on and regulate your heart rate, thereby preserving the health of your heart. Daily use of banana milkshakes may help lower the risk of heart strokes and attacks.
Preserves Skin Hydration
Eat bananas if you want to keep your skin hydrated. Bananas include vitamins A and C, which moisturize your skin and repair damage. Bananas' vitamin A helps to repair damaged, dry, and dull skin by replenishing moisture that has been lost. Furthermore, since bananas are a good source of antioxidants, you should drink a banana milkshake to expel dead skin cells.
Minimizes hair loss
You must drink banana milkshakes if you want to stop hair loss and get beautiful hair. Bananas are a good source of folic acid, which gives your hair shine. Additionally, folic acid maintains your hair healthy and hydrated.
Due to its low cost and year-round availability, the banana is a well-liked fruit by all. Banana smoothies are not only tasty, but they also provide a number of health advantages.